The Sabre Name
A Sabre is hand forged, created with precision, and great attention to detail. The Sabre name is symbolic to the work that we perform for our clients.
Our clients know that they can rely on Sabre to plan and execute their projects with precision and great attention to detail.
Company Pillars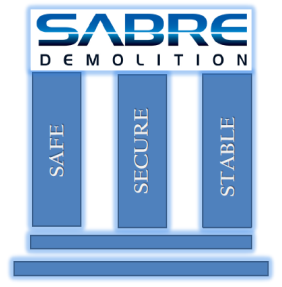 Our Company Pillars are the foundation of what Sabre has been built upon.
We try to stress the importance of these pillars to all of our employees, as well as our clients.
The Pillars demonstrate our commitment to our employees and clients.
Safe. Secure. Stable.
Safe
Sabre is committed to the "Nobody Gets hurt" mind-set, and we believe all incidents are preventable. All of our projects are planned and executed with safety as our primary objective and deliverable.
Secure
Sabre continues to have clients in our portfolio in which we have built long term relationships over the years. Our clients know that we are consistently focused on the needs of their firm, and we feel that the client/contractor relationship is a two-way street.
Stable
Sabre has performed some very complex projects through our existence as a company. Despite the project complexity or expedited schedule, we're not disturbed by the challenge and remain committed to not fail our clients.